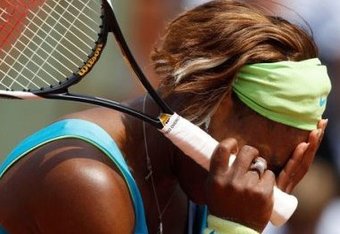 Serena Williams won't be playing in the Nike Clash of Champions, an event she was going to share with Maria Sharapova, Roger Federer and Rafael Nadal on March 8 at the University of Oregon campus.
The event sold out in a matter of moments, but instead will just be another footnote in the Serena saga. Her streak off the tennis court is about to enter its eighth month.
Victoria Azarenka, currently ranked ninth in the world, will replace Williams in the event.
"I'm disappointed that I won't be able to play at the NIKE Clash of the Champions as I had anticipated," Williams said.
"I'm thrilled, however, to still be able to participate in the Family Tennis Festival and in the exhibition as a referee during the mixed doubles. This is an amazing, once-in-a-lifetime event and I'm honored to be able to share my love of tennis with Pacific Northwest fans, and to thank Nike tennis for all their continuous support."
It's a good bet that those fans who spent $25-$85 to gobble the 12,000 tickets up in 11 minutes are slightly less "thrilled" to see the 13-time Grand Slam singles winner as a referee instead of on the court playing.
No disrespect to Azarenka, but when you've never made it past the quarterfinal at any of the Slams, do you really qualify as a "champion?"
While Nike was clearly limited to players on its own label, reaching out to Serena's sister Venus, Kim Clijsters, Francesca Schiavone, Vera Zvonareva or Caroline Wozniacki would have been the smarter play.
Azarenka has matched Sharapova 2-2 in their four career meetings, but it's a far cry from the rivalry between Sharapova and Williams, which includes two Grand Slam finals and one semifinal.
Now down to 11th in the rankings, Williams has until Rome in early May before she loses any more points off her ranking. Ironically, if she can make it back by then, and in reasonably good shape, she can make up most of the points she will lose simply by playing the season schedule from July on after missing everything post-Wimbledon in 2010.